The music industry is a competitive place. All over the world an almost unimaginable pool of artists, bands and performers are striving to get their music heard and appreciated. But although advances in technology have led to new ways to market musical talent, what many people do not realise is that it will take more than musical talent to get heard. This is why more and more musicians, bands and performers are increasingly coming to realise the benefits of having a talented music writer on board to write their artist biographies, press releases, band websites and other promotional material. A music industry writer knows the scene and can add value to your words, story, webpages, bios, and music press releases.
More than just a Uk copywriter, Julie-Ann has written for many musicians and bands, and her partner is both a professional musician and Producer.  We've written books on music marketing both traditionally and via social marketing.  How many writers will you find with a recording studio at home?  We really are expert music industry writers.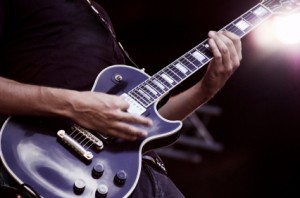 The benefits of a quality music writer
A good music writer will be interested in you and your music. They will find out about you, listen to your tracks, maybe even watch your band perform via DVD or MySpace video and take in all the demos that you can provide. They will find an interesting angle to promote your brand, and they will know how to go about writing words for publicity.
Your writer will form a partnership with you. They will develop a style of writing that suits you, that suits your unique personality and style, and will therefore appeal directly to your fans. They will come up with content quickly and efficiently, so that when tour dates get changed and news comes up unexpectedly, a music industry writer can be relied upon to do the job professionally.
They will write crisp, sharp copy that will get noticed in the search engine rankings. It's not enough to have a MySpace page any more. You need to get discovered by any means possible, and effective Search Engine Optimisation can help you out significantly.
I've been in the Music Industry for many years, and I know just how a band or performer's image and online presence can affect their fanbase and potential.  In my book "MySpace Music Profit Monster: Easy Online Strategies for Getting More Fans Fast" I explain just that and how to achieve good results.  Julie-Ann and the music writing team at ExquisiteWriting.com are my first choice when I need a writer to work on a project, and exactly who I recommend when asked who can deliver writing work.  I'd be happy to recommend their work to anyone looking for written text for their MySpace Pages, websites, newsletters, bios, Press Releases etc.  They understand the music industry, and have always delivered great, first rate work. 
Nicky Kalliongis
How a music writer can help you get started

The Bio:
When it comes to breaking into the music industry, any successful artist will know that image plays a huge role in their success. On the stage this may consist of the clothes they wear and how they act, but on the internet this image will rely to a large extent upon words.  What your site or bio says about you is CRITICAL.  And many bands and musicians miss this.  See one of our sample music bios here.
Before image even comes into it musicians first have to get themselves heard, which is often the hardest part. You may have developed a sound that you want the world to hear, but with so many other talented artists out there it is difficult to get noticed.
The Press Release:
Press releases are one way of getting your name heard. See a sample music press release here.  A good music press release writer will capture attention with catchy, sharp and informative writing that will target the media and the fans that you want to reach. They will be able to distribute the press release to your targeted audience, directing them straight to your website to hear your samples.
Once you have successfully managed to direct people to your website, there has to be something there waiting for them. Yes, the music is the main reason that they will turn up. But don't assume that they won't be influenced by everything else they see on your website.
The Web Page or Website:
A musician's website says who they are, and it should therefore not only look professional but include interesting and relevant information that will capture the visitors' interest and keep fans coming back for more. It should contain all the right ingredients such as mailing lists, new features and interesting articles, and when it is up and running it should be updated regularly to keep the fans coming back for more.
So don't let all your hard work be ruined by a poor quality artist biography. You need your words to sell you as much as your music, and when fans visit a boring website strewn with errors, it is not going to help your all-important image.
But don't think that you only need a music writer to help you to break into the music industry. Writers will help again when you are finally getting the recognition that you know you deserve – this is when you will need a reliable writer the most. There are a lot of potential fans in the world whose loyalty you will want to hold onto, and your updated, original and interesting written material has a large part to play in that.
You want to get your music heard, so let a professional music industry writer help you to achieve your goals. For the small time spent finding a good music writer, you will get someone who cares about how well you do, who will help you to get your music out there, and who will keep people coming back when you've managed to find success.
So – get yourself a good music writer, and let the words do the work for you. We can help! Contact us for a quote: